Many homeowners appreciate the expense that installing a new HVAC system can entail. Many breakdown issues can actually be traced back to improper care or maintenance, so it is important to establish a routine of regular HVAC maintenance to reduce the need for potentially costly HVAC unit repair.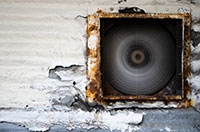 Proper maintenance will not only reduce the likelihood of a breakdown but can significantly impact your indoor air quality. Home maintenance need not be a huge challenge and here are some important tips to ensure your system is properly maintained.
Use a good quality air filter:
Although there may be a temptation to go for cheaper filters, it is important to always choose a good quality filter. This can improve the quality of the atmosphere immensely by removing greater quantities of particles and pollutants. Good quality filters can also prolong the lifespan of your equipment as they reduce the number of particles of dirt or debris which could cause damage to the machinery by trapping it deep within the filter, allowing it to be removed and discarded. Be sure that you select a filter which is the proper size for your equipment. Ill-fitting filters can leave gaps into which particles can flow through.
Regularly Replace Air Duct Filter or Filters
It is important to regularly undertake air filter replacement to maintain the good working order of your system. Filters can become clogged up with dust and dirt which can restrict airflow and cause the accumulation of debris in the HVAC unit. Most manufacturers recommend replacing the air filters according to the needs of their particular models, but if you notice your filters becoming clogged, you may have to increase the frequency.
Establish a Maintenance Routine
Unless you are very technically minded, you may require professional assistance to inspect your equipment and perform any adjustments or necessary repairs. Even if you are not confident about repairing your own equipment, you should be familiar with the various components and check them regularly to spot any minor issues before they develop into a major fault. This can include emptying drain pains, checking cooling coils for any condensation and clearing vents of any dirt or debris.
Air duct cleaning Lancaster advises that cleaning should be done every three to five years. This can vary according to the type of system, how often it is used and if there are any pets in the home.